Do we have a treat for you guys today! Greg Gonzalez, guitarist from NO JOKE came across our post of his former band and was cool enough to send some words our way along with tons and tons of mp3s for you all to enjoy. Some of the recordings never really surfaced so this is a real treat. I'm pretty stoked on getting the chance to share these with everyone because the tracks that I had not heard before are fucking awesome. I've had a lot of people from the bands I've posted in here get in touch and everyone is always willing to share some stories and rare recordings. Hopefully contributions like Greg's will keep coming in as this is some really crucial stuff from Western NYHC. Enjoy and thanx Greg! - EMS / Coregasm
---------------------------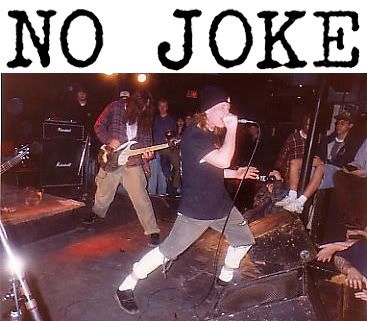 "Here is the deal with Jeff Johns. We met him when we played at Club Blitz and signed a deal with him. We were to pay half of the price to record the 7" and he was to pay the other half. He would then press the record (1000 copies), distribute it, and give us records to sell (I think 100 records).
Jeff sent us the money; we recorded the 7" and sent Jeff the master tapes, cover art, and band pics, etc. Then he disappeared. We called repeatedly over a period of months. He kept telling us he would have the records soon. At some point, he sent us a test press of the 7" and then stopped answering our calls.
We went to Chicago to find him, to no avail, and I think we had Dennis' father (an attorney) write Johns a letter. We were all between 17 and 20 at the time and did not have the savvy or resources to solve the problem. Ultimately, we wound up with no 7" after playing a year of shows with no product to sell. That did not help advance the band.
As you can understand, we were pretty upset with Jeff when we recorded our second 7". Thus, the note for him. I think there is also an extra song on one of our recordings with some vocals recorded backwards that lays out our feelings towards him.
In 2002, I did a google search for "No Joke" "Tragedy of the Masses" and found a listing for the TOTM 7" on Larry Ransom's website. I emailed him, and he told me that he bought it in a store (I think in Chicago). I couldn't get him to sell it to me, so I started looking all over for it. Eventually, I found a couple on www.gemm.com and bought one for myself and one for Justin. That is how we got a copy of our own record! Every once a while, another one pops up on that site.
I have posted all the NJ catalog to the site below for you to add to your site. We are cool with you posting all of the music as long as you make it available for free. We just want people to hear it. There are three additional studio recordings we did that not get much distribution (Buffalo, NY EP; New School EP; and Deadtime CD). Here is a list of what is in the folder:

Put into Place Demo 1989:
This was recorded on my four track and sold at shows. The band at that time is Justin, Greg. Dennis, and Rob.

First Demo 1989:
Although this is called First Demo, I think we recorded it second. It is also another recording from my home four track. Clint plays bass on this one.

First Live Show 1989:
This is a recording of our first show. We are opening up for SOIA at the River Rock in Buffalo. The recording is pretty good considering the equipment we used.

Buffalo NY EP 1990
This is a studio recording we made just prior to heading out to Club Blitz. We sold most of the tapes we put out on that trip. The band is the same as the TOTM 7".

TOTM 7"
You might want to check the quality of the 7"s I posted. They may be better than the ones you have.

Into My Words 7"

Practice with Dennis 1991
After Clint left the band, we brought Rob back. This practice recording is Dennis, Justin, and Greg playing "Second Birth" without the bass. We sent Rob a tape of the song so he could learn it while he was away at school.

New School EP 1993 (Fusion)
After Dennis left, Jesse Muscato (Buried Alive) joined the band. We released this three-song studio EP on our own label, run by Justin, called Fusion.

Deadtime CD 1994 (Fusion)
We recorded a full length CD at MetalWorks right before we broke up. The band here is Greg, Justin, Rob, and Jesse. For some reason, we released this under the name Deadtime rather than No Joke. We never distributed it, and I still have a pile of these at my house. The CD contains some new songs we wrote with Jesse and some old ones we wrote when Dennis was in the band. The CD also includes two songs from the New School EP.
If anyone wants more NJ info or wants to get one of the Deadtime cds, email me at
gregtastic@aol.com
There are also some old NJ videos on You Tube or here:
www.myspace.com/nojokebuffalo
Thanks again for posting this stuff!"
Greg Gonzalez

DOWNLOAD:
https://www.mediafire.com/?5udb47ht0fmz27k