I first heard NO ESCAPE on their split 7" w/ TURNING POINT. I immediately feel in love with both bands. NO ESCAPE were a great band from the historic early 90s hardcore scene of New Jersey. No Escape had a cool slowed down vibe to them as opposed to many of the bands playing circle pit anthems of that time frame. Vocalist Tim Singer later went on to front the slightly more chaotic group known as Kiss It Goodbye. I believe that guitarist Steve Crudello also did his time in Turning Point. This CD was released on the now defunct Overkill Records from Seattle WA. It was recorded in March of 1993 at Why Me? Studios. The bonus demo tracks are from 1990.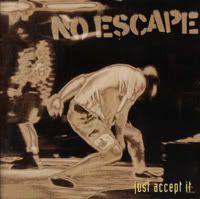 NO ESCAPE "Just Accept It" CD + bonus demo tracks
http://www.mediafire.com/download/olxziqz8i08zl9j/NoEscape_justacceptit.zip
1. Falling
2. Just Accept It
3. Bed of Nails
4. Left Hanging
5. No Question
6. Time Bomb
7. Downtime
8. Framework
9. Guilty
10. No
***BONUS - Demo 1990***
11. Falling
12. Thread
13. Blind
14. Search
15. Guilty
-----------------------------------------------------
UPDATE:
xYosefx requested that I put up scans of the full
Gatekeeper Demo
that was posted last April. So here you go man... hope they are good enough.
Insert side 1
-
Insert side 2