More syracuse vegan straight edge coming at you in coregasm. There seems to be no shortage of this stuff in my collection which some people will love and others will hate. This '90s hardcore band had everything going for them; they were from syracuse, had the same drummer that displayed his amazing skills in Green Rage, Guav the straight edge weapon did their logo, and Joel Jordan did their 7" layout. This 3 song 7" was recorded at Penguin Studios in January of 1994. I think it took forever to actually come out and somehow i scored one on red vinyl. Check out those freaking dive bombs in EVERY song! The band later went on to release a CD on Lifeforce records and you can still find it at
Very Distro for only $4.99.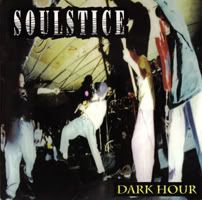 SOULSTICE "Dark Hour" 7"
Released on Scorched Earth (Stanton, NJ) in 1994
http://www.mediafire.com/download/ttb36a86eg19dac/Soulstice.zip
1. Turn Away
2. Blind
3. Dark Hour