The Cleveland, Ohio hardcore scene has spawned many heavy and dark hardcore bands through out its history. One not too heard of is Arms Length who hold their own with the scenes past. Arms Length have more of a fast old school feel to it along the lines of Confront more so than the metallic leanings of Integrity. However I'm sure they all shared the stage at one time or a nother.
After I dug this out of my collection I was reading the liner notes and was surprised to see that the typesetting and layout was done by none other than John McKaig which I thought was pretty cool (although John there's a lot of typos in the lyrics haha j/k). The cover and band logo's font definitely do remind me of my old 11x17" Attack & Answer fanzine that McKaig did back then. Another Syracuse connection to this release is that it was put out on Shane Durgee's (singer Framework, Gatekeeper, etc...) label Reflection Records (not to be confused with the current Reflections Records from the Netherlands). The 7" was recorded back in 1992 and some liner notes mention that there were 10 tracks recorded in all and that the other 6 were available on a cassette directly from the band. That would have been cool to check out. I'm sure there's only a real limited amount of those around. Anyway, if you like the history and sound of the Cleveland hardcore scene over the past 20+ years hopefully you'll enjoy this as well.
"Roaming down the street. There's a corpse lying in front of me. A bullet in his head and blood dripping from his eyes. Self-inflicted death - a suicide. What justifies this action? Why did he have to die?"
- Realm of Hatred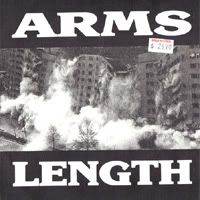 ARMS LENGTH "s/t" 7" recorded May of 1992 in Canton, OH.
Released on Reflection Records.
http://www.mediafire.com/download/axnpf85k0s6a749/ArmsLength.zip
1. Intro / Your Control
2. Blood From Stone
3. Realm of Hatred
4. Last Draw