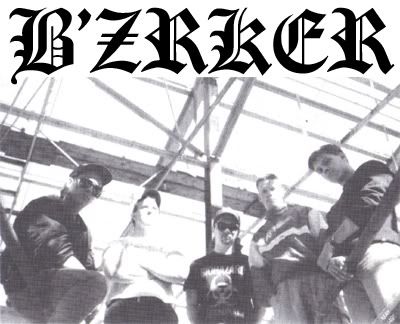 I just know that a bunch of people are going to love this 7". This shit is hard and pulls no punches. Yet again another band that was introduced to me from the "East Coast Assault" Comp just like my
Bricklayer
post earlier this week. B'zrker who were also from Massachusetts play a hard metallic style of hardcore along the lines of bands like Zero Tolerance, Icemen, Merauder, and Dmize. That's why I just know that some of you readers are going to be all about it. The harder a band is the more downloads it seems like they get. Lots of double bass drums, chunky bass guitars, and plenty of guitar chugs. My favorite vocal line from this 2 song 7" is the following:
"You fucked with the system and got off scott free. You claim you've got your ticket BUT NO ONE RIDES FOR FREE BUT ME!"
On top of all of that the 7" starts off with a sample from Nightbreed based on the Clive Barker book Cabal that I was probably reading around the time I got this 7". Although not an amazing movie it's still fun to hear the aptly used quote at the beginning. Anyone know if any other material from these guys exists? I'd love to hear more. B'ZRKER was: Tom Habelt - vocals, Alan Fisher - lead guitar, Joe Keinberger - rythm (sic) guitar, Charlie Steeves - bass, & Chip Adams - drums. This 7" was recorded by Ducky Carlisle @ Room 9 From Outer Space in Boston Mass.
B'ZRKER "self titled" 7"
Released in 1992 by Exchange Records
http://www.mediafire.com/download/6hstnqq62ghwq0n/Bzrker.zip
1. Taking the Law
2. It Never Bends