Snapcase started out a lot different than what many of us think of today. Prior to bassist Daryl Taberski taking over the vocal duties was the unique voice of Chris Galas at the helm. With a different line up and an intense case of Zero Tolerance worship (can you blame them?) Snapcase had a bit more of a harder metallic edge to them with more of a "sung" style of vocals. This 7" was their first major exposure to others outside of their area and I loved what I was hearing on this. Shortly after this release you could hear their original version of "Fields of Illusion" on the Only The Strong 1992 compilation with Galas's vocals. Snapcase later redid this song on "Lookinglasself" but for some reason I still favor the Compilation version. It wasn't soon after this that Daryl put down the bass guitar and switched over to vocal duties. Michael Kimaid played drums on this recording and he had a nice metal influenced style with lots of double bass flare throughout his songs. He even played on half of the tracks on "Lookinglasself". The line up on this 7" was: Chris Galas - vocals (who reportedly showed up to a show in a boyscout uniform when they played), Scott Dresler - guitar, Joe Smith - guitar, Daryl Taberski - Bass, & Michael Kimaid - drums. It was recorded June of 1992. Check out that lead guitar work in the beginning of "Comatose"! That used to be a crowd favorite back then. I just wish a few years ago I didn't ebay my SOLID STATE Demo cassette (their previous band) when I was low on funds.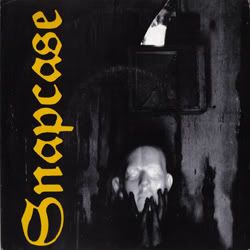 SNAPCASE "self titled" 7"
Victory Records 009 - 1992
http://www.mediafire.com/download/0w0uer9uc0u8rsn/snapcase_SelfTitled_7.zip
1. Crown Of Thorns
2. Comatose
Although Snapcase just officially broke up 2 years ago they are reuniting one night for a benefit show in NYC. Here's some info copied from elsewhere:
"In celebration of the November release of The Anti-Matter Anthology, author Norman Brannon is having a release party, but rather than showing up at a local Barnes & Noble Brannon is doing something much more fitting to the book's tone -- he is setting up a benefit show.
On November 24th at the Music Hall Of Williamsburg, hardcore visionaries and progressives Snapcase, whom broke up in early 2005, will reunite for one night only. Joining them will be fellow Anti-Matter subjects 108 and Triple Threat. The show's proceeds will go to benefit Callum Robbins, son of Jawbox frontman J. Robbins. Cal Robbins was recently diagnosed with spinal muscular atrophy, an incurable nerve disorder that is hugely expensive to treat.
:DETAILS:
Saturday November 24, 2007
The Music Hall of Williamsburg
66 N. 6th Street | Brooklyn, NY
A Limited Edition Presale Package will be available on September 28, allowing the first 55 people to buy their ticket alongside a stamped, numbered, and personalized copy of the The Anti-Matter Anthology at a combined reduced price of $29.99. Tickets for the general public will go on sale October 5. Complete details and presale information will be released through the Anti-Matter MySpace page:
http://myspace.com/antimatterbook
"