I finally had a chance to rip a 7" and even cracked out a new ghetto setup to transfer cassettes into mp3s. So with that said I give you KNOTWORK. Knotwork were from the surrounding area of Philadelphia known as Upper Darby. In 1993-95 I was heading down that way to catch shows very regularly. Knotwork played a handful of these and always gave an energetic, youthful set. This was the era of bands that were straight edge but had hope for changing the world and their selves for the better. Groups like Frail, Bleed, Lifetime, Policy Of Three, Iconoclast, Elements of Need, & Autumn all were doing well in the area and the first wave of Victory Records bands blowing up was starting (like Earth Crisis, Strife, and Snapcase). Shows were happening very often in the Philly area and always had a decent turn out. I always thought that Knotwork were really good but not too many people outside of the area got a chance to hear of them. Singer Jon Pepe eventually went on to play guitar in the infamous
I HATE YOU
. Listening back to these songs they definitely feel dated but bring back lots of good memories from many moons ago. I have included their 3 song 7" that was released on Kids Dream Records in 1995. It's complete with construction paper layouts and all hand done cut and paste artwork that was popular for that time era. I have also included their 5 song demo cassette that came complete with a "It's Okay Not To Drink" photocopied sticker. Musically the 7" is a bit more mature than the demo with longer guitar intros and a little more experimenting vocally. Overall I really enjoyed going back and hearing these again for the first time in probably 10 years. Wonder what some of these guys are up to these days?
http://www.mediafire.com/download/pa688iip6bdnmm6/Knotwork.zip
KNOTWORK "self titled" 7"
(recorded at Why Me? Studios)
1995 Kids Dream Records 003
1. Distance
2. My room
3. When the Bough Breaks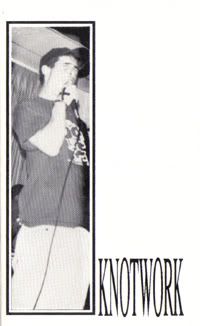 KNOTWORK "demo" Cassette
Self Released 1994ish?
1. All Fall Down
2. Far Too Long
3. This Time
4. Fuck Your Drugs
5. Identity