If you liked the Dissolve tracks on the "Over the Edge" CD compilation I posted a few weeks back look no further as I have more treats for you. This
Poughkeepsie, NY
band made some pretty interesting music. The music had weird elements, influences, and time signatures not unlike Deadguy / Kiss It Goodbye mixed with some Bloodlet and at times they even remind me of a more metallic Econochrist for some weird reason... but the vocal delivery was totally different than those bands. (I know people are going to hate those comparisons). It would be an understatement to say that the raw passion and emotion that singer Paul Thorstenson puts forth was intense. I liked the songs on the "Over the Edge" comp so much that right after I got that CD I sought out their 2 song 7" that was also released on Endless Fight Records around 1994. The mp3s are a little rough sounding but both songs have some amazing parts to them that make me want to smash through my desk and stand up just giving the middle finger to any person walking past my window. Listen to the lyrics on "Sandcastle", they're right up my alley.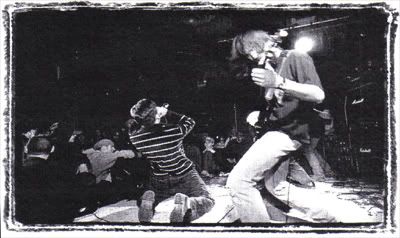 Dissolve started in 1991 and never really officially broke up. According to their myspace bio they recorded an album entitled "Caveman of the Future" scheduled to be released on MIA records. If any of you were around at that time you'll remember that the same label featured Candiria, Darkest Hour, and Disassociate and that the label abruptly folded and ceased all operations, leaving all of the bands hanging out to dry. The Dissolve album was sadly never released. (Man I'd love to get my hands on that!). "As fate would have it, this never happened. Day jobs, distance, and side projects began to take precedence resulting in a hiatus from touring for Dissolve. While the band never broke up, gigs tailed off and performing stopped. The band went into a kind of hibernation." They did play a show in 2004 & another one in 2005.
Nevertheless check out their 1994 7" and enjoy it. I feel that their sound has stood the test of time and if they would have had the right label support and proper releases throughout their existence plenty of more people would know their name.
DISSOLVE 7" on Endless Fight Records
https://www.mediafire.com/?mo9wl7uw7drxrdz
1. Sandblaster
2. Gabriel's Wrench
DISSOLVE on Myspace
also check out their video for "Graverobber" live in Massachusetts in 2000.
Click here for the video.