One King Down was well known for their "Bloodlust Revenge" CD released on Equal Vision Records in 1997 but before that CD was the hard to find "Absolve" EP. No strangers to different line ups this CD features their 1st of 3 singers featured on recordings. Absolve kicks in hard with their signature "ONE KING DOWN!!!" sing along & set opener.
Many people will remember OKD more so for their touring and performances with Rob Fusco on vocals but this EP is still a great listen. However Bill Brown still had a strong presence on this CD giving One King Down an even harder, tough edge to their sound. It's a nice mix of contemporaries of the time like Victory Records all stars Snapcase & Earth Crisis mixed with a good amount of influences from the Albany / Troy hardcore scene for instance local heroes Stigmata.
The core of the band, brothers Bill & Michael Scoville on guitar and bass, Derrick VanWie on drums and Matt Wood on 2nd guitar were all highly proficient players of their instruments. I loved that OKD weren't afraid to slow things down and have the songs kind of plod along in a heavy rocked out fashion. I'm a sucker for mid tempo songs. Listen to some of those guitar riffs and transitions. Not too bad considering how young they were at the time.
I'm not really sure why vocalist Bill Brown left after this EP but they definitely went on to do a lot more down the road. In 1997 One King Down & Brother's Keeper did a full US tour together and I got to know them pretty well. We definitely had a good time on the road together even if we did hide cups full of human feces inside their van only to awaken the next day to shit smeared all over our front window, windshield wipers, and underneath the door handles. It was gnarly... Unfortunately at one point in the tour I had to fly home due to a death in the family. Mike from OKD was nice enough to learn 7 BK songs on bass in one night and filled in for a few dates until I flew back out and caught up with the guys.
It was a 5 week full US tour and I remember after our last show which was in Pittsburgh, PA, OKD were going to come back to Erie and crash at my apartment before heading back to Albany. Once we arrived home I quickly realized that my place had been broken into while we were on tour and it had been burglarized. OKD rolled up and saw me outside with the police and we're just kind of like "What the fuck happened?" The bastards stole my original nintendo but didn't take the power adapter, idiots! Oh well, such is life.
Derrick VanWie went on to play drums in The Promise for many years, Mike Scoville even got a chance to audition for the Foo Fighters at one point, Rob Fusco has been seen wearing scarves while playing chess at shows and can be found singing for Most Precious Blood these days, and some of the OKD crew have been working hard at Equal Vision Records for many years now.
ONE KING DOWN "Absolve" CD TRK 003
released on Trainwreck Records in 1995, recorded in Aug '94 @ Max Trax Studios.
http://www.mediafire.com/download/vk2e0rr3zza2vyd/oneknigdown_Absolve.zip
1. Nine Eyes
2. Bleeding
3. Reawakened
4. The Killing Fields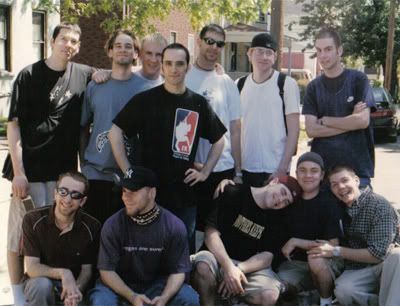 One King Down & Brother's Keeper in front of my apt in Erie, PA 1997.