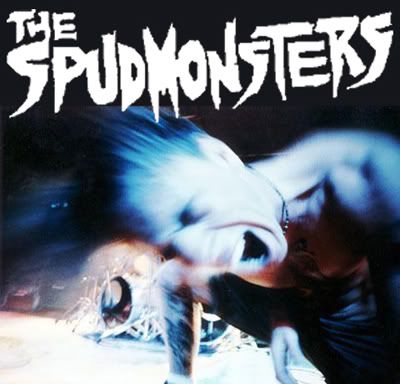 I can vividly remember my first trip to
Erie
.
It was my senior year of high school (94/95) and I had been corresponding with my friend Mike Ski from Sumthin To Prove.
He had just started a new band (Brother's Keeper) and told us to drive up for a show.
The drive was about 5 and a half hours and I remember rolling into
Erie
thinking "What the fuck happened to this place?"
There were 2 shows happening that day.
First was an all ages matinée which featured Strike Three, Wargasm, Brother's Keeper (pretty much still Sumthin To Prove at this point), and Spudmonsters.
Later that night was a 21+ show featuring all of the bands minus Strike Three.
I had never heard of Spudmonsters and the name left me not expecting much.
Boy was I in for a shock.
The night provided many insane experiences that definitely led me to eventually move up here to Erie, PA. The weekend consisted of tattoos, hangouts and meeting tons of straight edge hardcore kids (who all snuck in for the 21+ show), fistfights and people getting smashed in the face, low riders rollin' on 3 wheels, and the highly energetic lead singer of the Spudmonsters ordering the crowd to demolish the place. People were swinging from the rafters, ceiling tiles were being ripped down and smashed over people's heads, and pitchers of beer were going everywhere. I loved every minute of it. The Spudmonsters put on an amazing show and the amount of energy the entire band put forth was more than impressive. To my knowledge they were really only known in
Cleveland
and surrounding areas, and were huge in
Europe
. I think the poor name and lack of US touring / CD distribution might have discouraged kids from checking them out and man did a lot of people miss out.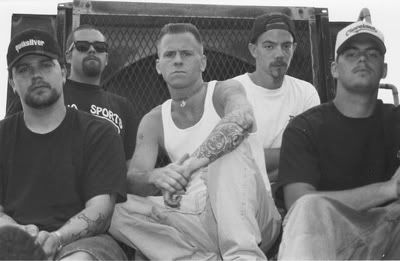 The band has a heavy mix of Cro-Mags, M.O.D., meets early Biohazard influence to them. In fact many different members of the Spudmonsters went on to play in bands such as: Run Devil Run, Biohazard, Pro-Pain, Bloodclot, Among Thieves, FVK, & Sons of War. I'm not really sure what led to the demise of the Spuds but I still regularly listen to their CDs. I had been planning on posting these albums now for awhile. Coincidentally enough, just last weekend during a trip to a Cleveland Indians game a tattooed gentleman wearing a Ringworm jersey walked up to me outside asking me if I had any tickets for sale. After getting a good look at each other and realizing we knew each other it was none other than Don Foose singer of the Spudmonsters. It was pretty funny running into him there. Spudmonsters just did a reunion show in May 2007 and due to my wedding and obligations I wasn't able to make it. I heard it was amazing though.
I encourage all of you to check out these two albums featured from here. The "STOP THE MADNESS" + "ACE OF SPADES" ep were released in 1994 (recorded at Mars Studio) and have a great early 90s crossover vibe to them. I can vividly remember certain tracks from this album when I first saw them. "Garbage Night", "Beer", & "Death Sucks" are all stand out tracks. There's even a cover of "Ace of Spades (bio monster remix)" Featuring Evan and Billy from Biohazard singing with them. The "MOMENT OF TRUTH" CD released in 1997 (recorded at Normandy Sound) has a bit more of a modern sound to it with a fabulous Biohazard meets Bad Brains vibe to it completed with a cover of "Right Brigade". The opening track "Isolation" will immediately want to make you jump through a wall its so balls out. "In Check" & "100%" are other favorites of mine. Tons of crew chant backups and amazing guitar riffs make this album an unfortunately unknown gem. Enjoy.
http://www.mediafire.com/download/w5ajzp3dgudb43m/spudmonsters_2albums.zip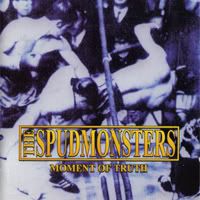 SPUDMONSTERS "Moment of Truth" CD (1997 Century Media)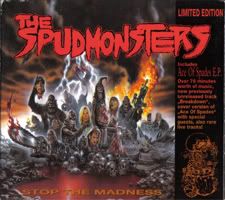 SPUDMONSTERS "Stop the Madness + Ace of Spades EP" (1994 Massacre Records)