Digression were one the bigger bands during the mid to late 90s in Erie. Whenever they would play tons of kids would be singing along and stage diving. They had a pretty good run despite many line up changes. Here is a little insight into the band care of their guitarist Mike "Wiz" Wisniewski.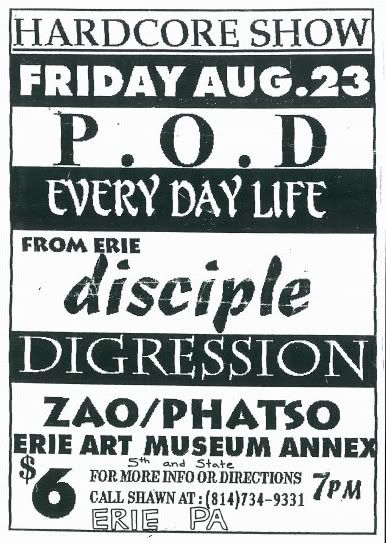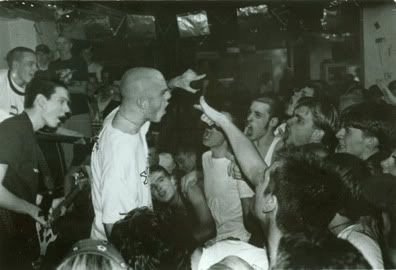 Years of bands existence: 1994 - 1998
Band members: The main members were Mike Wisniewski, Joe Nolan, Jay Teriberi, and Jon Burdick
Throughout the years there were a lot of different members that came and went....Steve Heatherington, Dan Quiggle, Bill Gerhelin, Mike Schwenk, and a couple of other temporary members but I can't remember their names.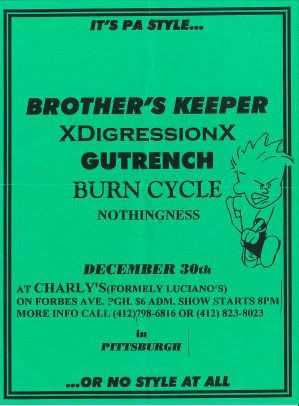 Releases / year released:
Demo - 1995
Controlled 7" (Surprise Attack Records) - 1996
From These Ashes full length (Endless Records) - ?
Interesting stories form live shows, tour, recording sessions for particular releases, etc:
We seemed to have a rash of quitting that made for some interesting situations. We had a singer named Jason once that joined the band and after about a month he just disappeared and it was right before his first show. We had heard from the grapvine that he moved to Florida, but he never contacted us or let us know he was moving.
Literally the day after we finished recording our demo, our singer (Dan Q.) announced to us that he was leaving the band. Every time the band seemed to gain momentum, someone ended up quitting which ultimately took its toll on the band.
On our way to our first show of a mini-tour, the wheel of our trailer flew off while we were going 70 on the highway. It was early in the morning on 4th of July too. We ended up have to get towed off the highway to a parking lot & getting a wheel from a junkyard since everywhere was closed.
Why did the band break up: Couldn't keep a permanent singer
Did members join other bands: Joe went on to be in a couple of other bands & is currently in Smoke & Mirrors. Jon, Steve, and myself were in Fire at zero gravity for a couple of years.
"From These Ashes"
CLICK HERE TO DOWNLOAD