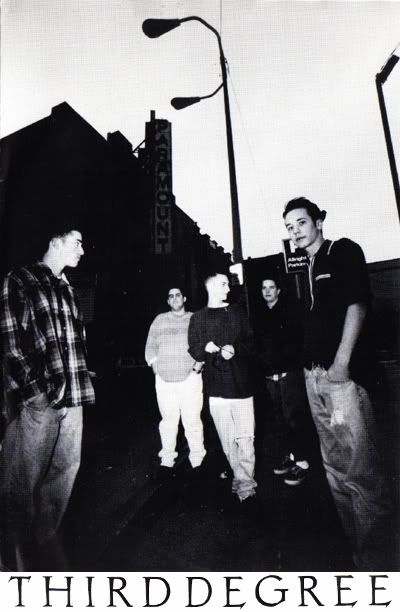 Massachusetts band Third Degree's double 7" on Suburban Voice always intrigued me. Im not sure what made me pick it up back then other than it "looked hardcore" haha. That was pretty much the basis of many of my record store picks in the early 90s to be honest. I always thought it was weird to be a double 7" as I didn't see many of those and still don't. Even back then I hadn't really heard much about this band but this recording was decent. Kind of reminded me of a lot of stuff that started popping up at that time like early Iceburn, later Insight, Temperance, and Guilt type of hardcore. Kind of laid back and rocked out. It wasn't a life changing find but is definitely representational of some stuff that was going on at this era so I thought I'd share it.
Third Degree was: Frank Quintiliani - vocals, Dave Hunter - bass, Jim Mccobb - guitar, Brian Fraher - guitar, & Steve Meuse - drums.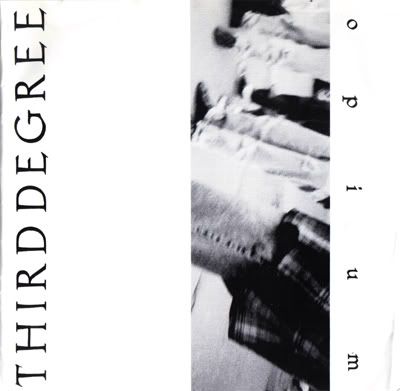 THIRD DEGREE "Opium" 2x 7"
Released on Suburban Voice (SV #008)
Recorded January 1992 @ Bobcat Studios.
https://www.mediafire.com/?v67glkba25bk2t3
1. Must
2. The Herd
3. Opium
4. Consequence Inevitable
-------------------------------------
On a side note you might have noticed it's been awhile since any updates. I've really enjoyed doing Coregasm which is almost reaching 3 years (next month!) but due to all of my other endeavors time is limited. Coregasm is not going anywhere and I will continue to post old gems as I have time so don't worry. I haven't given up. Since I've started this blog I've noticed a huge increase in other nostalgia filled hardcore blogs and I think that is amazing. Some of them are intense that I can barely keep up with reading them. I'm glad a lot of this is getting documented and put out there. I don't think you HAVE to know your roots to be apart of hardcore but I would like to think that there are some people who are interested in knowing where this lifestyle stems from and why we are all apart of it. A great book just came out called
Radio Science
and it is nothing short of amazing. Where else are you going to get to look at sketches of the original Minor Threat black sheep? You should do yourself a favor and pick this book up (I got it from
Revelation Records for $25 here
). If you like to look at lots of old high quality pictures, read stories of yesteryears, show flyers, accounts from legendary band members, and tshirt art this book has it all. Anyway, my point to all of this is that punk and hardcore have been a huge part of my life that regardless of how often Coregasm gets updated you can rest assured that sooner or later something will pop up. DIY til I die. - ems