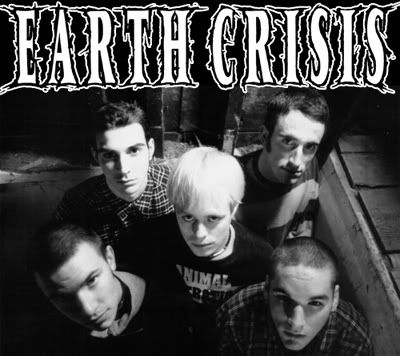 Earth Crisis (name taken from the reggae band Steel Pulse) really doesn't need much of an introduction. At least I would hope not. One of the leading premier Vegan Straight Edge bands that took the professionalism and ethics of hardcore to another level. The band many love to hate, but just as equally, many love to call their favorites.
Here you will find 8 tracks recorded sometime between the "All Out War" Ep and the "Firestorm" Ep. I'm not sure if this is what they sent to Victory to help land their deal with them or not. A few of these songs never saw the light of day on anything else, and a few would wind up on later recordings. I love the sense of urgency in these recordings. It's a little sloppier than you're used to hearing ExC but you can just tell that they were onto something new and exciting for the time.
I couldn't even ball park how many times I saw this band from 1993 on up. I would travel to any show within 6 hours to see them. Every time I loved it. I received my first and only (unintentional) black eye during an Earth Crisis set at the Turning Point reunion in NJ. I also busted my hand over some (deserving) guys face during one of their sets in Pittsburgh PA which resulted in an emergency room visit. All in all though I still have respect for these guys and what they were doing. I'm not the best at reciting lyrics for bands but put some Earth Crisis on and watch out. The lyrics to "Forged in the Flames" are some of the best Straight Edge lyrics ever written in my opinion. After all of these years they still ring true to me.
"Forged in the flames of chaos. Hammered by trials to tempered steel. Convictions, tried and tested, onto a razor's edge, that's true and real. Wrought between the hammer and the anvil, strengthened to never break. The weakness that surrounds is the evil that I forsake. Never have I taken in vain the sacred vessel of my soul. I am the master of my faith, my destiny I control. Nobility lies in actions, corrections where once was wrong. Ascension from evil with a heart that's true and strong. Through this veil of shadows, the light of truth is my only guide. A knight unyielding. To the X I'm crucified."
- lyrics to Forged in the Flames
The recording has a little bit of trebly hiss to it but overall it's great archival material. Enjoy.
The file is zipped into a sendspace file as our server still hasn't been fully set up for coregasm. Thanx for listening.
EARTH CRISIS - "firestorm" demo recordings
http://www.mediafire.com/download/uc74i55xfvn54rd/earthcrisis_Firestormdemo.zip
1. Behind the Mask
2. Forced To Kill
3. Firestorm
4. Ecocide
5. Forged in the Flames / The Order
6. Goddess of Death
7. Knight of Justice
8. In a Time of Strife