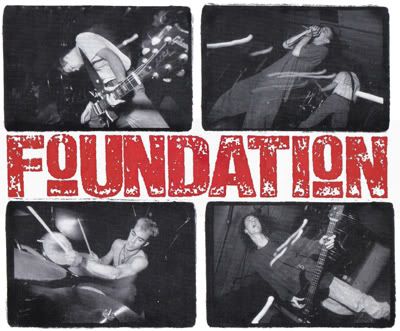 This is an exciting first post for the new year. My awesome sister and brother-in-law gave me a great Christmas / B-day gift (I'm 31 today!). It is a USB turntable that plugs right into my computer. I am very excited about this as I hope my vinyl to mp3 transfers get even better! That will hopefully mean more frequent posts of killer hard to find stuff. Anyway, onto the music...
Foundation were a rather original band from Rochester, NY that had an interesting sound. It was a mix of heavy yet emotional stuff. Kind of like they grew up on Underdog and Gorilla Biscuits but decided to add some real slow and drawn out parts with a very emotional feel to it (note: i'm not calling this "emo" as i don't want to scare any of you readers away). I believe that both of these 7"s are from the same recording session at Suny Fredonia, NY in November of 1991. Fredonia is only a stones throw away from here in Erie, PA. Actually the "Purity" 7" was mixed by Fred @ Mark's Recording which is interesting to me because a few years later my band recorded there with Fred.
Foundation made the trip down many times to the central PA area and you would see their name on many flyers. I always really really liked these 7"s, some of the songs are really long but the playing on them is fucking top notch. All four members seem to be very proficient at what they brought to the table in the band. The line up consisted of; John Drenning on guitar, Mike Waney on vocals, Steve Korol on drums, & Bill Colgrove on bass. These 2 7"s might be over 15 years old but they still evoke a lot of the same feelings in me as the first time I heard them. Great stuff. I would love to get my hands on more material from them.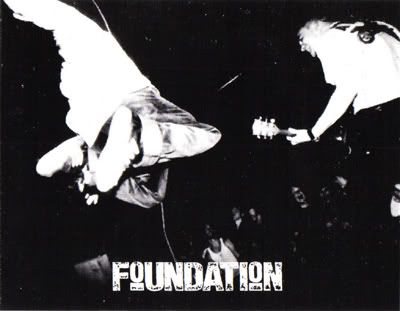 BOTH 7"S IN ONE ZIP FOLDER:
http://www.mediafire.com/download/2b0elq5cx0lb6xa/Foundation_27inches.zip
FOUNDATION "Triphammer" 7"
Released 1992 on Significant Records
1. Down
2. Triphammer (instrumental)
3. Your Deception
FOUNDATION "Purity" 7"
Released 1992 on Round Flat Records / Fasthold Records
1. Disaster
2. Purity