This 7" seems like it flew under the radar a little bit when you think of Syracuse Hardcore. Oversight features the very recognizable voice of Shane Durgee from Framework &
Gatekeeper
(previously posted on Coregasm) among other bands. His vocals are heavy and in your face but in a melodic, strong singing kind of way. Here and there a few of the songs even have that e-crunch that Green Rage and Earth Crisis spread to the whole world. These tracks were recorded in 1992 @ Penguin Studios. The players were: Shane – vocals, Dave – guitar, Jay – bass, and Casey on drums. Funny thing about the inner sleeve is that eccentric label owner Mike Warden from Conquer the World even has his own thanx list in the layout. I've never seen a label owner (not in the band mind you) do such a thing. Very weird… and to top it off Mike thanx "My mom for putting on my X's". haha, awesome. I'll give him some credit though, this was his very first release so who knows!?!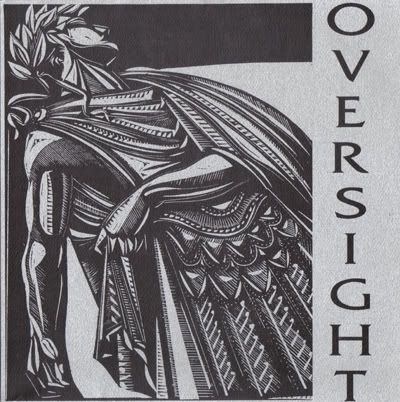 OVERSIGHT "After This Day" 7" (mines on grey marble)
Released in 1992 on Conquer the World Records (CTW 001)
https://www.mediafire.com/?lwokxyc4xd6gk68
1. Picking Up the Pieces
2. Princess
3. Reveal
4. The Pedestal
--------------------------------------------------
A little addition to this post is the 7" from COUNTER PUNCH. I picked this up back then simply because it was released on Shane Durgee's label Reflection (not to be confused with the current awesome European label Reflections). There are no liner notes, lyrics, or any information other than song titles and that it was Reflection Records #4. So maybe some of you can fill in the missing pieces on this release and band. I actually really enjoy the songs so check them out! It's kind of in a similar vein of groovy, raw, and heavy but on the melodic tip. Great stuff and I wish more bands were trying stuff like this.
COUNTER PUNCH "Counter Punch" 7"
Released on Reflection Records #4
http://www.mediafire.com/download/x8j3ca92l97fjqi/CounterPunch.zip
1. Inner Reality
2. Letting Go
3. Freedom
4. Stranded
5. Outro